NRCS Partner Proposal Workshop: Wetlands Reserve Enancement Partnership
October 22, 2020 @ 8:00 am

-

5:00 pm

MDT
October 22, 2020 to discuss FY2021 program and ranking criteria changes. If you are interested in attending this workshop, please e-mail Lisa McCauley, WREP National Program Manager, at lisa.mccauley@usda.gov.  This session will be recorded and the recording will be available on the National WREP Website.
Fiscal Year (FY) 2021 Wetland Reserve Enhancement Partnership (WREP) Announcement of Funding, Proposal Requirements, and Review Criteria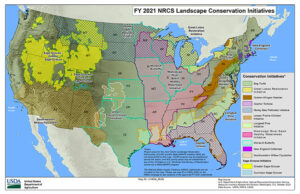 WREP is a component of ACEP-Wetland Reserve Easement (WRE) through which NRCS enters into agreements with eligible partners to target and leverage resources to address high priority wetland protection, restoration, and enhancement activities and improve wildlife habitat on eligible lands.  Potential partners may submit WREP proposals for an individual landowner project, watershed, or geographic area. WREP partners are required to contribute financial or technical assistance match as detailed below.  All projects funded through WREP must meet all ACEP-WRE eligibility and program requirements. All WREP transactions will be processed through normal NRCS contracting procedures.
Only State and local units of government, Indian Tribes, and nongovernmental organizations are eligible to submit a proposal and enter into WREP agreements with NRCS.  For the purposes of WREP, a nongovernmental organization is an organization described in section 501(c)(3) of the Internal Revenue Code of 1986.  Individual landowners may not submit WREP proposals through this submission process.  However, once a WREP agreement has been entered into by NRCS and the partner, eligible landowners may apply for WREP through their local NRCS office.  As part of the WREP agreement, approved partners may also help facilitate the submission of landowner applications, provide additional technical or financial assistance to landowners, and provide other resources as defined in the agreement.
Benefits to the partners in WREP agreements include—
Involvement in wetland protection, restoration and enhancement in high-priority areas.
Ability to cost-share restoration or enhancement components beyond those required by NRCS.
Opportunity to leverage funding to critical resource concerns.
Opportunity to target outreach and enrollment based on priorities identified by partners and supported by NRCS.
Opportunity to use innovative restoration methods and practices.
Ability to maximize habitat benefits on new and existing enrollments.
Ability of partners to utilize their expertise in easement acquisition and restoration to assist NRCS with achieving wetland protection and restoration goals
Follow MOA
Share your event with the Montana Organic Community.