AERO Expo & Annual Meeting
October 25, 2019

-

October 27, 2019

TBD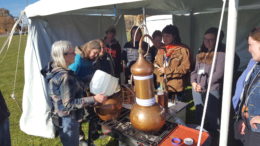 Expo 2019
AERO Expo 2019
SEEDING THE FUTURE: Cultivating Community Resilience
Montana State University Campus, Bozeman
October 25-27, 2019
KEYNOTE: Dr. Ricardo Salvador
In 1984, AERO's Ag Task Force hosted Montana's first major sustainable agriculture conference in Bozeman on the Montana State University campus. 35 years later, AERO is partnering with MSU and community members to host the 2019 Expo: "Seeding the Future." To be held October 25-27, 2019 on MSU campus, this conference seeks to build from 45 years of visionary work by AERO and partners, and to empower new generations of students and entrepreneurs.
In 2019, agricultural endeavors have the largest impact on Montana economies, resources, landscapes, and energy use. AERO's focus moving forward will be on community building for the purpose of nurturing and promoting robust and resilient regional food system development across the state. Since sustainable, robust regional food systems naturally include sustainable energy means throughout the system, resilient regional foods systems by definition include resource stewardship and renewable energy. This will be the focus of the 2019 Expo.
Join us to explore new perspectives and advance efforts to build sustainable, healthful, equitable food systems across our region. We are excited about our strong planning partnership with MSU faculty, staff and students, AERO members and the Open to Local Coalition of Bozeman.
KEYNOTE: Dr. Ricardo Salvador
As the senior scientist and director of the Food and Environment Program at the Union of Concerned Scientists, Dr. Ricardo Salvador works with citizens, scientists, economists, and politicians to transition our current food system into one that grows healthy foods while employing sustainable and socially equitable practices. Dr. Salvador is an internationally renowned agronomist with more than 20 years of experience working to build a healthier food system and we look forward to him bringing his expertise to Montana.
CONFERENCE FLOW
Friday: Friday will be filled with a variety of tours on the MSU Campus and the Gallatin Valley focused on farm to campus, local food, food justice, energy on the farm and climate action.
Friday Evening: A new addition to the AERO Expo lineup: we will be having a public event "Seeding the Future" Pecha Kucha style with a dessert buffet and cash bar. Speakers will include our own Jenn Battles as well as 6-7 other inspiring speakers and our keynote! Stayed tune for more on this fun event!
Saturday: Four jam-packed, concurrent sessions on:
Food Equity:

 

Access, equity, and justice.
Systems & Scale:

 

Exploring solutions and addressing fragility in agriculture and community food systems.
Climate:

 

Food, agriculture, climate, energy – connections, challenges, solutions, and the intersections of energy and agriculture.
Communication:

 

"Moving the Needle", expanding Montanan's understanding of and motivation to participate in community food systems.
Saturday Evening: A wonderful local meal provided by catering at MSU followed by Hawthrone Roots
Sunday Fun-day, DIY Day!
DIY Energy and Ag buffet!
Follow-up Work Sessions
Small Scale Farming Discussion
AERO Annual Meeting
Follow MOA
Share your event with the Montana Organic Community.